You've got questions and we've got answers! If you have any additional questions about our products, please feel free to contact us at Zen@peregrine-livefoods.co.uk. You can also, check out our FAQ videos on YouTube!
Product:
Do you offer payment plans?
When you choose Shop Pay at checkout, you can split your purchase into 4 equal, 0% interest installment payments - with no additional, hidden, or late fees.* Click here to learn more about Shop Pay Installments.
*Payment options are offered by Affirm and are subject to eligibility check and might not be available in all states.
Are Zen Habitats products covered by warranty?
We offer a 5-year warranty on all Original and Meridian Enclosures, Stands, and Spacers.
What's the difference between Meridian enclosures and our original products?
Our original enclosures require some muscle and puzzle piecing the frames together. Our new Meridian line is more user friendly and requires only 8 screws and a couple minutes to assemble! The panels are semi pre-assembled and fold up like a dog crate. Meridian is the way to go if you anticipate having to move the enclosure around a bit since disassembly will be much easier. Both lines maintain the Zen quality and aesthetic and you can mix and match your stack. 
What is the difference between Zen Habitats PVC & Wood Enclosures?
When choosing a reptile enclosure, consider the humidity needs of your reptile. The main difference is the amount of humidity the panels can handle without damaging the panels. PVC panels support both desert and tropical environments of 0-100% humidity.  In addition, PVC supports the use of UTH (under-tank-heating.)
Our wood panel enclosures are perfect for desert reptiles and small animals requiring low humidity levels 0-50%. Wood enclosures are not to be used with UTH.
Check out our enclosure selection here. If you have any other questions regarding the specific needs of your pet, please visit our Care Sheets.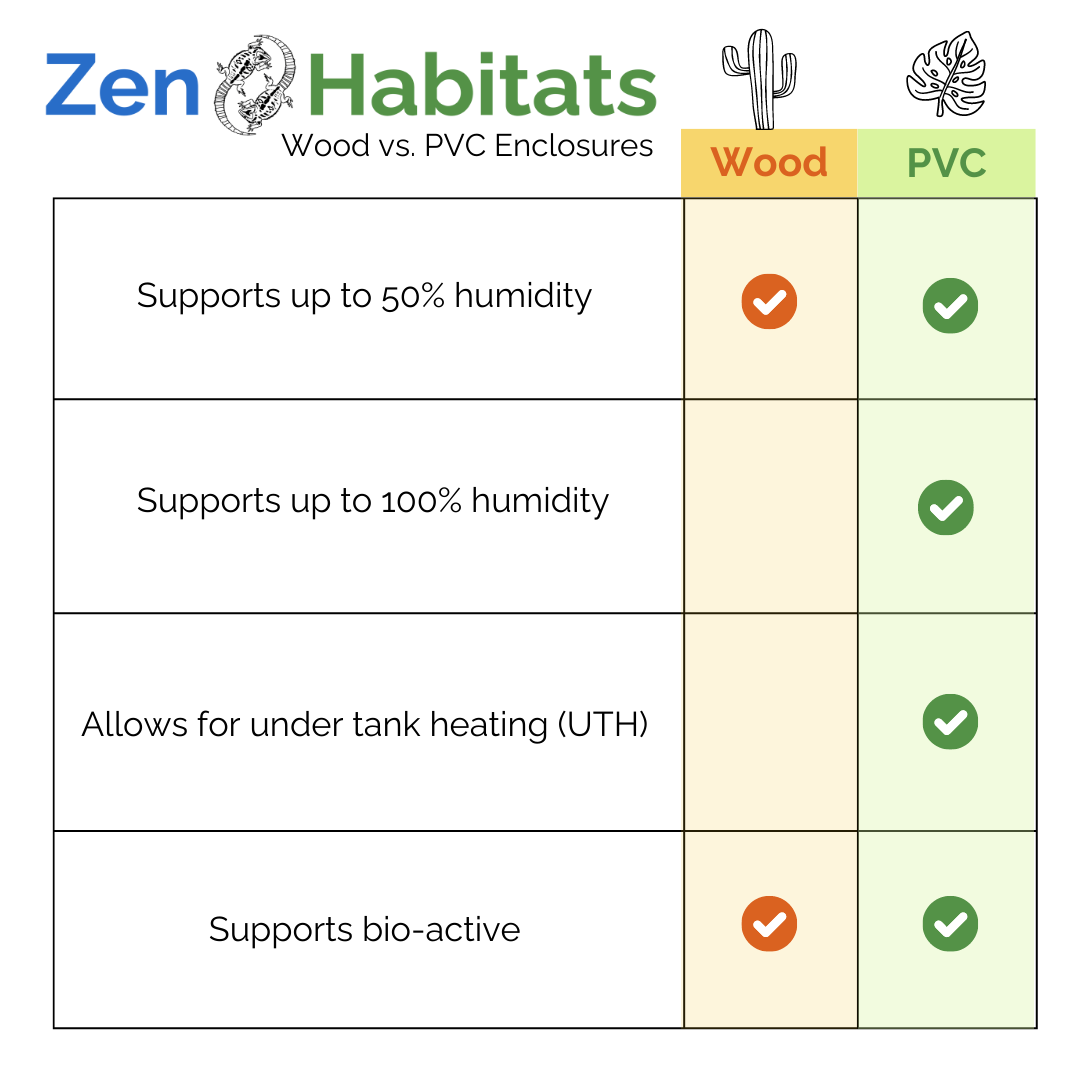 Are Zen Habitats enclosures stackable?
The enclosures are secure enough to be stackable, but you would need a spacer to allow the bottom unit to properly ventilate for your pet.
Can I place loose substrate in the habitat?
Yes! All of our enclosures come with a substrate shield to keep loose substrate inside the enclosure. The shield is optional and 15.25cm tall in our 61cm tall enclosures and is built-in and 30.5cm tall in our 122cm tall enclosures. Enclosures with built in substrate shields also include options for an acrylic or screen panel.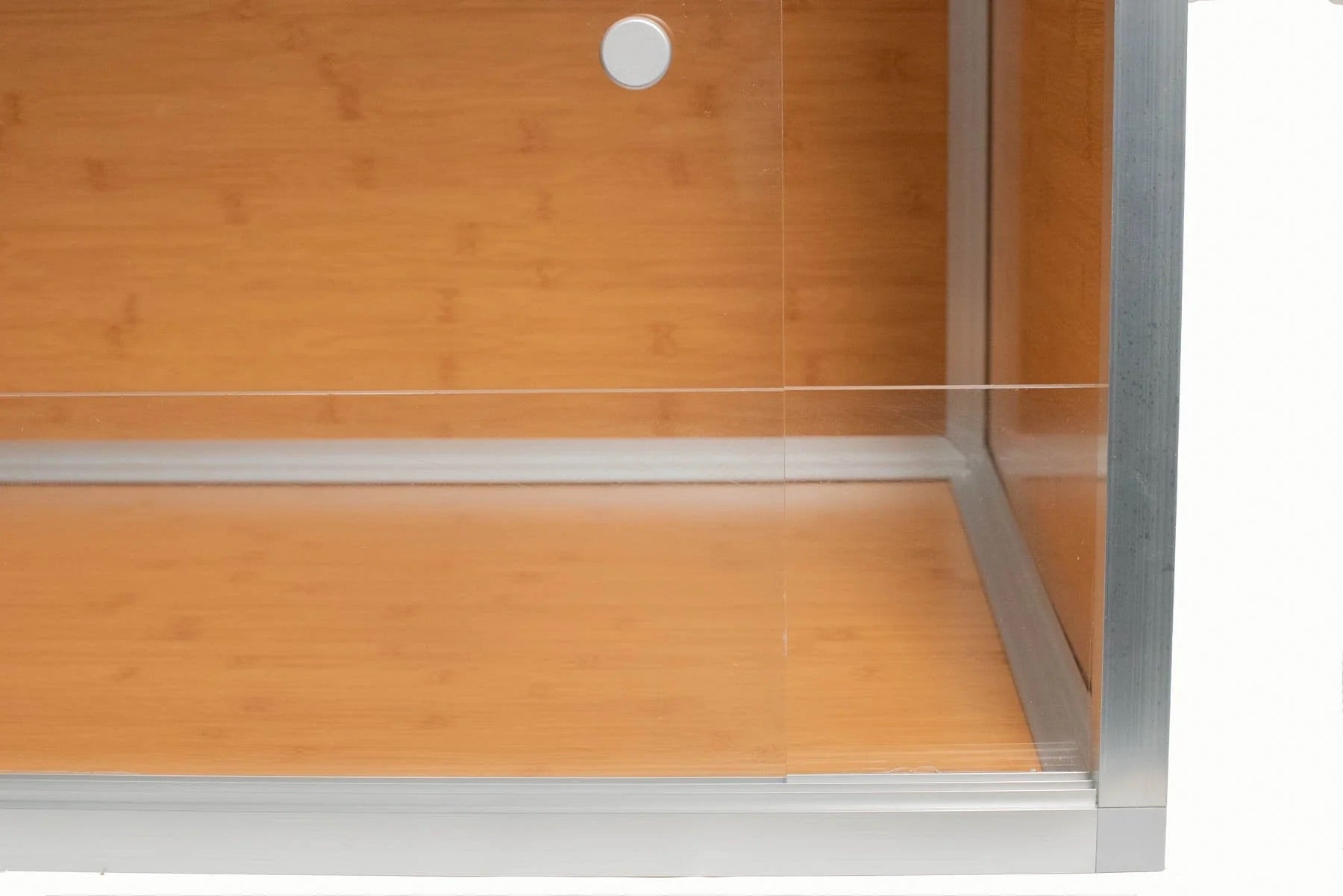 Can I use this as a bio-active habitat?
We've had many customers successfully create bioactive habitats in our enclosures. While our PVC panels are waterproof, keep in mind that our enclosures are not water tight. So you'll want to use a liner like our bio basin to prevent leaks. Here is a video showing how we set up our Chinese Water Dragon's bioactive enclosure with a water feature!
How much weight can an enclosure handle?
Our Meridian PVC and wood panels are 0.6cm thick and can support up to150 lbs.
How secure is the screen top?
The top screen is made of a sturdy stainless steel mesh and support bars welded into a steel frame that fits securely into the enclosure. Check out our video below of Kasey testing out our screens with our feline friend Pizza, Zen pup Nash, and 100 lbs. of weights.
Do you have locks for the enclosures?
All of our sliding door enclosures come with a wire door lock and door wraps to provide extra security for extra sneaky escapees. You can also purchase an inexpensive lock for under $10 online. 
How easy are the reptile enclosures to clean?
Some of our enclosures have front sliding doors that are removeable and our other enclosures have swinging doors all of which allow for easy access to your enclosure for cleaning. Please use pet safe cleaners. A vinegar and water mixture works great for us!

Looking for an easy-to-clean solid substrate option that is great for your reptile's well-being? Check out our Meridian Zen Mat!
Can I use UTH (under tank heating) and CHE (ceramic heat emitter) with my enclosures?
Our PVC panels support thermostat regulated UTH. Our wood panels are not compatible with UTH. All our enclosures work great with CHEs.
Can you attach a hammock to the habitat?
Yes, you can attach hammocks by using suction cups or Command hooks.
How do I attach lighting to the habitat?
Because everyone's lighting needs are different, we created our Zen habitats with the most flexibility possible. You can place your lights on top or inside the enclosure. We even have a wire grommet for your electric cords. Lighting on the inside can be attached to the support bars using a multitude of different fasteners. We choose to use zip ties or a small chain.
How hot does the aluminum frame get with the heat lamp directly on the screen?
We tested both the Zen Habitats galvanized steel screen and the adjacent aluminum frame and there were no issues with heat. The galvanized steel screen tested at 31 C and the aluminum frame, placed 5cm away, was only 30 C.
How does the size compare to a 40-gallon breeder tank?
A standard 40-gallon breeder tank is 97x46x41. Our standard 122x61x61 enclosures are approximately 120-gallons. This would make Zen Habitats enclosures three times larger by volume. 
We also offer additional enclosures in the following sizes:
122x61x41 – 80-gallon equivalent
122x61x122 – 240-gallon equivalent
61x61x122 – 120-gallon equivalent
61x61x61 – 60-gallon equivalent
Does Zen Habitats make custom-size enclsoures?
Although we do not offer custom sizes, we do offer extension kits that allow you to put together any two of our 122x61x61 or 122x61x122 enclosures to help you achieve 240, 480, or 600 gallon enclosures, a much larger space for your pet!
Assembly:
How do I assemble my enclosures, stands or spacers?
Our enclosures ship flat, to help save on shipping fees and to prevent damage in the shipping process. We designed our habitats to be easily assembled. Our original line requires a rubber mallet and our Meridian line does not require any additional tools. You can access our assembly video tutorials and written instructions here.
How can I tighten loose corner pieces?
Shipping:
What is Zen Habitats' shipping policy?
At Zen Habitats our goal is to get your new enclosures to you as soon as possible. All in stock items placed by 12:00 pm GMT will ship same day, orders after 12:00 pm GMT will ship next business day. We offer free shipping in the UK for orders over £150. For orders under £150, the shipping fee is just £9.99.
How do I find my tracking number?
Orders and tracking numbers are available to view in your account details. Once an item in your order ships, you'll also receive an email with tracking information. Make sure to check your spam box! 
Which countries do you ship to?
What do I do if my Zen Habitats product(s) come in damaged?
If your product or any individual parts are damaged or there are any other issues with your products upon delivery, please email Zen Habitats at Zen@peregrine-livefoods.co.uk so we can help you out!
What's your refund policy?
If for any reason you are unhappy with your product, please contact us for a return within 30 days of delivery. Read our return policy here.